How to Build Your Own Sound System (PT 2)
Continuing on from part 1 of How to build your own sound system, which we are very pleased you found helpful.  In this post we will be looking at pre amps, effect units, speakon wiring and power distrubution boxes and last of all mixing consoles.
Pre Amps
When choosing your pre amp ensure that it meets all your requierments in functional use and has  flexilibilty because they are not cheap. If you find one that you like it will make or break the way your overall set sounds.
Lets start with the Kane, Mostec  and Jah Tubbys  pre amp but count yourself  lucky if you find a Kane pre amps.  These are three really good 1u and 4u unit's, they come with bass frequeury sweep for the sub & bass then controls for mid, mid/hi and hi with a frequeury sweep for the hi to mid/hi. Configuration at the back is very straight forward with left & right inputs for stereo use, also has hi/mid and bass output twice for stereo use again. Last of all a mix out output for all those soundman who don't want to use the inbuilt crossover and prefer to use a seperate electronic crossover unit.
If you set up any of these units right they will sound really good with an exceptional sound quality and bass end.The smaller 1u unit won't have inputs for your turntable, cd player mic and effects, if you want it to have all those features you need to get one like the Jah Tubbys pictured below.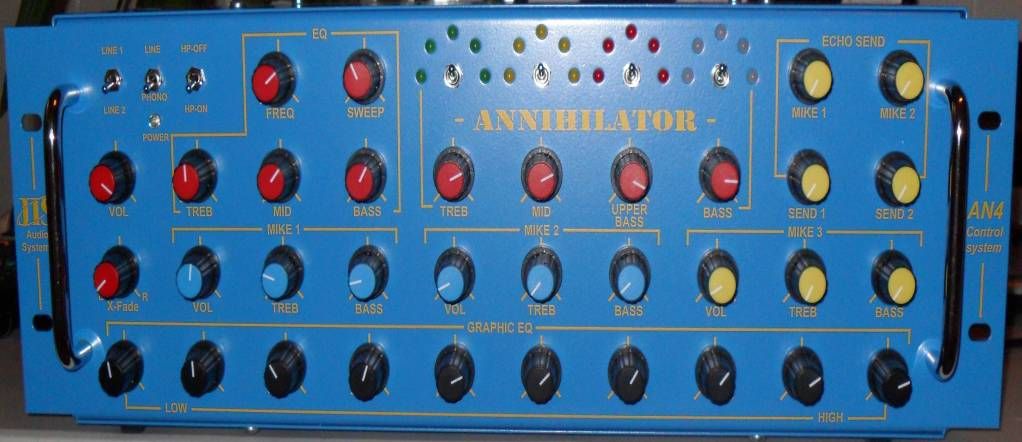 Siren Effect Unit
Depending on what sort of sound you want, adding one of these to your system can increase the fun factor. It is used a lot amongst dub sounds to enchance the music and performance of the system; by turning the oscillator you will create different sounds that's all your own. Lovely piece of equipment to have specially with an echo unit added.
Siren Effects Unit
Speakon Wiring
One of the best ways to wire your sound system outputs is by 8 pin speakon which will make the system easier to set  up and cut down on a lot of  unnecessary speaker cable. This way all the system's main speaker signal travel down one cable from your amplifier outputs, particularly if you're playing four way, so you don't need to do anything more then run your cable straight into the main feed in the back of your main speaker box, and then link out in this part – I will show you how to do all this.
Step 1
8 pin speakon
Start with the 8 pin speakon wiring
PIN 1+ & 1-  wire the tops here
PIN 2+ & 2- wire the mid here
PIN 3 +& 3- wire the upper bass here
PIN 4+ & 4 – wire the bass or sub end here
The wiring comes direct from your amp in your rack onto the 8 pin speakon.  If you buy pre wired cable with an 8 pin speakon plug on it the unit will transport the signal in the correct way to the main input unit. All you need to do is follow the same wiring on the other end for them to match up. If you makeup the cables yourself just make sure all the colours match up on the pin. When wiring a good way to remember this is to write it all down, what colour goes where, so as not to forget and you will be proud of yourself because it will save so much time when setting up.
Step 2
Wiring  the back of your main 8 pin speakon feed, again follow the wiring from Step 1, but this time use 2 or 3  4 pin speakon sockets, one for the hi/mid end, another 4 pin for the upperbass and one more 4 pin speakon for the sub.
For the wiring take pin 1 from the 8 pin speakon and wire the postive and negative to pin 1 on the 4 pin speakon. Do the same from pin two on the 8 pin, again to pin 2 postive and negative on the 4 pin – that makes up the output feed for the hi/mid end feed to your speaker cabs, be it full range with hi/end and mid in one box or two single mid and hi end boxes. It doesn't  matter because you can still link out of the mid into the hi/end. Now wire pin 3 on the 8 pin speakon to pin 1 on another 4 pin speakon socket postive and negative for the upperbass. Again use another 4 pin speakon for the sub bass, go from pin 4 on the 8 pin speakon to pin 1 on the sub output speakon. For all the wiring just use black and red cable or blue and brown, the picture below shows you what it should end up looking like when finished.
speakon speaker box back plate
Top left 8 pin speakon input
Top right 4 pin speakon output for hi/midrange pin 1 + hi pin 2 + midrange
Bottom left 4 pin speakon output subbass pin 1+
Bottom right 4 pin speakon output upperbass pin 1+
Power distribution box
You're going to have to get one of these if you intend to run your system properly because a 13a power supply just won't cut it in the real world of sound systems. You'll be able to power all your equipment from a unit like this with no problem once the power supply from the main source is right, an essential  purchase.

Power distribution box
Mixing Console
These come in different sizes and ouput from 2 channel up to 48. This is where you will plug in all your effects from dub sirens to echo and all other multi effect and pre amps also your dj mixer, then out of this unit into you crossover it is used as the main control centre. What size you get will depend on if you think you need more than 12  channels because for most sound systems that will be enough but if you decide to go into band work as well you will  need a bigger one, just remember you don't have to use one as alot of sound systems don't and just control everything from the pre amp which has some inputs but it may not be enough, unless you get it made with extra inputs.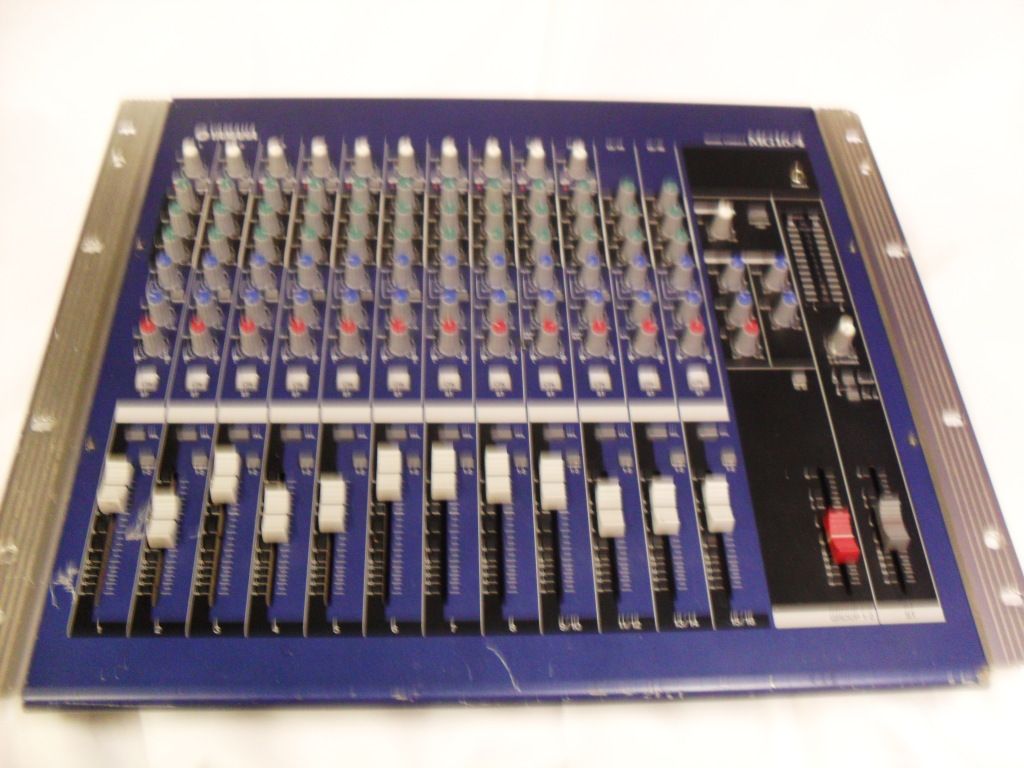 Mixing Console
We hope all this information is really helpful to you in building your sound system and if you want anymore information please feel free to email us at the academy.