British Academy of Sound Systems (BASS) – Survey
(Initial findings from our Survey – March 2011)
Since the creation of the Academy we have seen it as part of our mission to compile data/information from as many sound systems as we can to get as accurate record of their views on the industry, and to be the hub for information about sound systems.
Our aim is to acquire our own premises and extend the services that we will ultimately be offering. There is a huge number of sound systems in the UK and at this present time it is hard to says exactly how many there are – it makes it difficult to state the estimated value of the industry.
Sounds have shared with us some of their concerns, particularly on the lack of venues; them not having the right facilities and challenges with authorities and red tape, please keep your comments coming.
"nearly 70% of those who completed the survey indicated that

they experienced problems finding suitable venues"
Here are some more findings from the sounds that have already visited our site and completed our survey.
The sample indicated that quite a number of sounds have been around for over 15 years, but there were a lot of sounds amongst the survey who have been around for less than 5 years. When we asked what their level of knowledge of the business was like, nearly 40% classed it as substantial.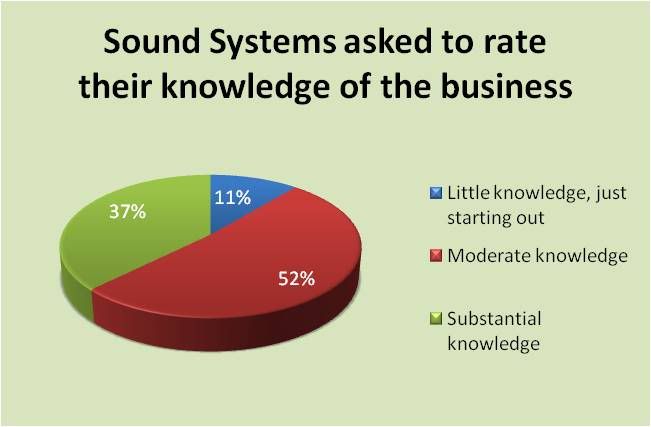 It's hard to estimate the worth of the industry in total, but there is no doubt that running a sound system can be costly for start-up and maintenance. A typical start up cost could set you back by as much as £12,000 – see our article on How to build your own Sound System.
Our survey confirms that there are a number of new systems coming on the scene who are eager to find support and places to go for information.
When we asked what type of service would be useful, respondents noted reliable news and information about the industry (found what was already out there was unreliable), dependable and affordable crew and cheap storage for their sound.
Sounds are serious about their craft and equipment; the amount they spend on equipment can range from hundreds to thousands of pounds. For instance, from our survey nearly 50% said they spend up to £500 per a speaker box and between £500 – £1000 on an amplifier.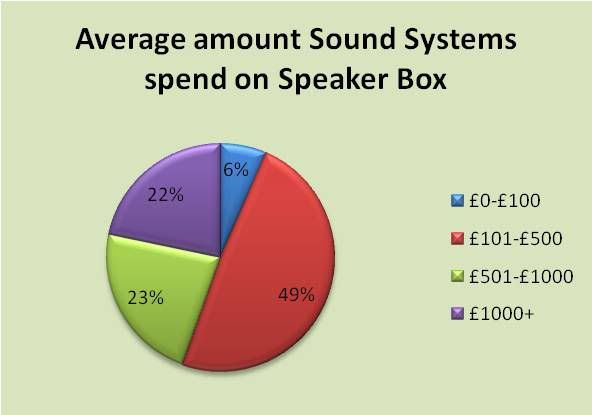 This is just a taste of what came out of the survey and over the following year we will be sharing more data with you. The survey is still going and you are welcome to complete it by clicking here.
"Empowerment in unity"
A comment from the survey that really sticks in my mind is 'Empowerment in unity', which just sums up what the sound systems industry needs to aim for, and at this present time still has some way to go, but that's another story!
If you would like further information about the data we are collecting, please get in touch using the Contact Us form.