Rice & Peas Soundcheck 28th October 2012
Well it's time for my monthly review of the sound check which is held in the Round Chapel in Hackney every last week of the month, and this one is of greater interest as my sound is playing there after having a disastrous showing at the last sound check at the golden palace. I know all the haters of Waxhead will be out in numbers not because they don't like Trojan 7 but because they feel Waxhead has no right to critique any sound.  So watch out for fireworks if my sound does the smallest thing wrong on the night.  Be assured this will be one of Rice & Peas biggest crowd turnouts so far with the return of Ebony Showcase doing battle for the crown.
My views on the sessions
Trojan 7
Why not start off with my sound system – we played 100% better then last time.  No problems with the crossover at all so we were very happy and our new double 18″ kick bins sounded very impressive indeed. The mids and tops were crystal clear which must of put some people's nose out of joint as they say we don't have any.  However, we did have some problems with the sub but nothing that stopped us from playing and that was down to carrying sub boxes that were damaged at our last job –  so was totally our fault. When it came down to playing music, the verdict was that we played the wickedness set out of all four sounds
All round we were happy because we did what we came to do which was to play music, we know we have the sub end to kill all challenges, so until next time when the Waxhead haters will be looking for us to fail we will be waiting for you, unless you want to directly challenge us, but that would be foolish – wouldn't it!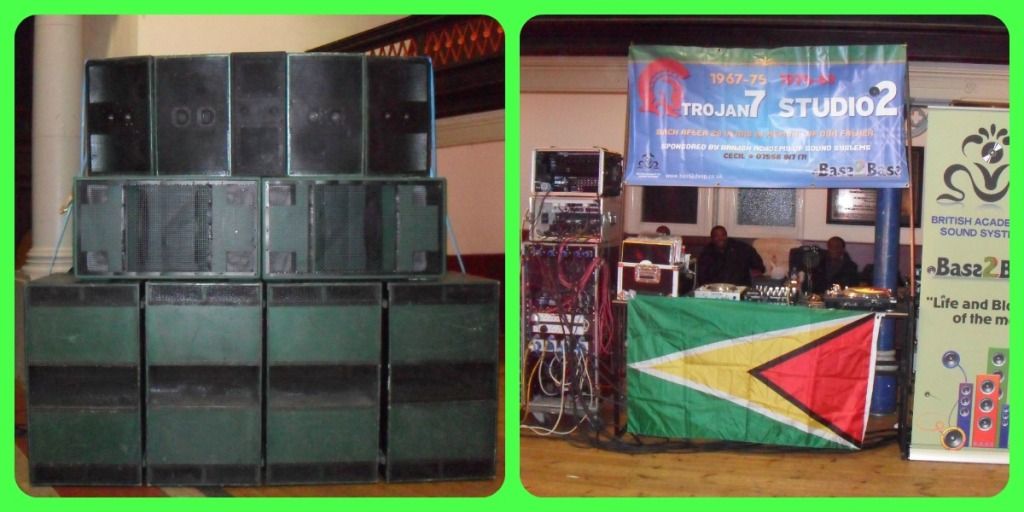 Trojan 7

Trojan 7
Eastman Sound
Very status looking system meaning you wouldn't forget it once you'd seen it.  Outstanding old style boxes which was nice to see and a very unusual setup with control and amp racks,  like you had to move all round the rack to find the different control buttons. Interesting design and something that they are happy with.  Some real old skool double 18″ five foot bass boxes just like the old day wardrobes – respect, love them.  Double 18s  also on kick bass although I didn't hear a lot of that coming out from it and some unusual mids.  Overall system sounded better as the night went on but not my cup of tea. Music was respectable with an enterprising mic man.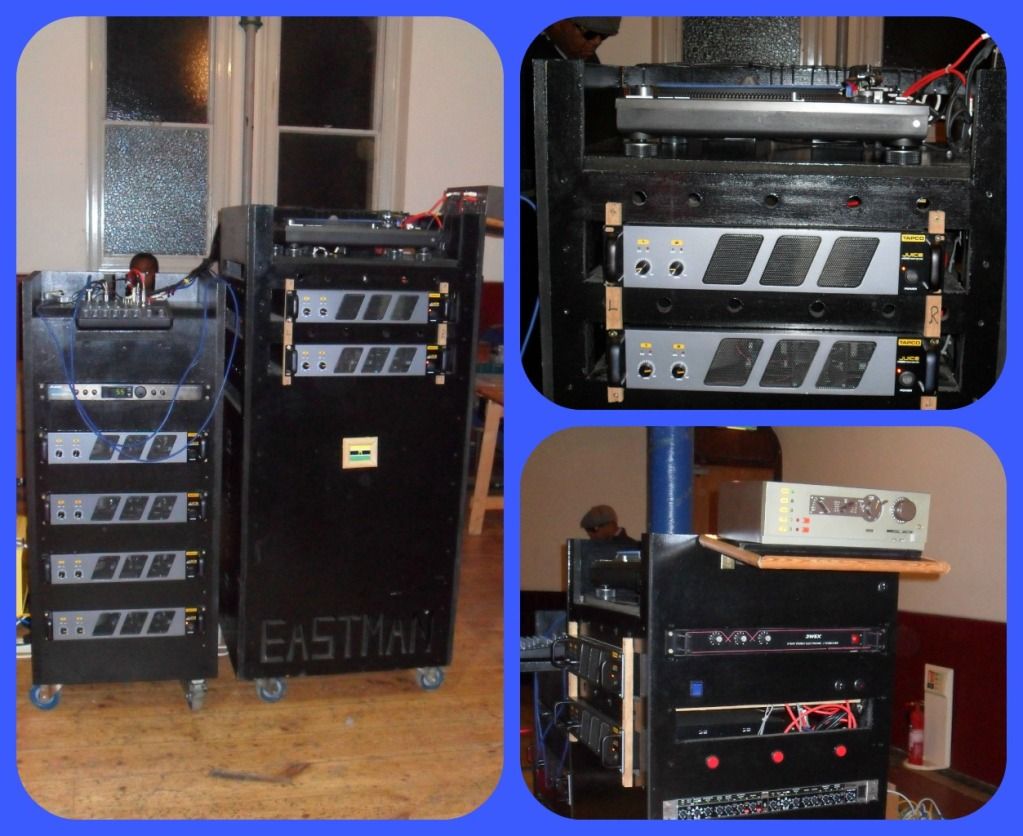 Eastman sound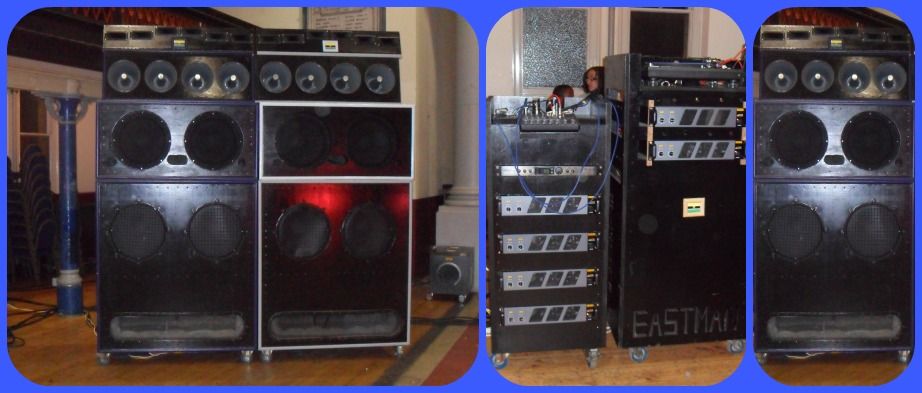 Eastman sound
Ebony Showcase
Ebony Showcase has been away rebuilding the sound for sometime and had people anticipating what it would sound like. First inspection looked impressive unfortunately the sound didn't live up to expectation, but will hold my final judgement as they are trying to get the equipment and sound right hence the reason for the sound check here and following week at the sound-off  at the Golden Palace.  Having heard them at the sound check the week after, I would have to say that their new system will hold it's own and is ideal for PA work with its flawless balance of sound.
Ebony showcase
Ebony showcase
Diamonds
This sound took the place of Ebony who for reasons unknown to me did a no show. There was meant to be a showdown between the two Ebonys – oh well, maybe next time. One of the many sounds that I've never heard play before. Setup looked compact and ideal for easy transport; sounded good for what it was . Probably not something I would purchase for myself as I have given up on using scoops mini or full size as my main system. Wasn't feeling  their music selection at all maybe next time, we'll have to see.
SORRY NO PICTURES OF DIAMONDS
Turnout was strong at this Rice & Peas, and we all know why – to shot down Trojan 7 and Waxhead. Shame it's not going to work I am very single-minded and working towards something bigger.  Must say thanks to all the people who came to supports us, and all who didn't. Big-up Ebony Showcase, Eastman and Diamonds for making this one of the best session under these promoters, just wish all four sounds had more of an understanding regarding music played. At least we didn't hear anyone play prophecy by Fabian so massive respect  for that.
"We hate some people because we do not know them; and will not know them because we hate them."  ~Charles Caleb Colton
Waxhead out, bless.